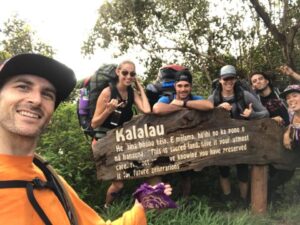 The story of 27 backpackers that survived Kalalau during the storm of a century….
Story, Photos & Video by: Lani Violet (Used by permission)
This is only a small portion of our crazy story experiencing the North shore Kauai floods. We were among the most extreme to endure this catastrophic weather event because we were in the wilderness of Kalalau Valley in survival mode. Not even all the gear we hiked out there could prepare us for this storm of a century.
We were a group of 27 backpackers from Oahu, Big Island, and Kauai trapped at Kalalau Beach along the Na Pali Coast (the isolated beach at the end of a grueling 11 mile hike.)
Some of us had been there for 9 days, most others for 5 days.
The torrential rain began on Friday while we were up there and continued for about 36 hours. The ocean was raging and the rain & lightning was immense. The waves were insanely huge, some as large as what seemed to be 30 feet pounding into shore.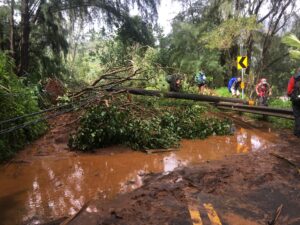 Most of us got soaked and couldn't sleep because we were cold and tired. Some of us had tents that could endure, but some of us only brought hammocks to camp in.
The first departure wave in our group was 4 people and they had the hardest time getting out on Saturday through the toughest of rain. They only made it to the Halekoa shelter at mile 6. Where they had to spend the night on a picnic bench under the downpour of rain. They then hiked down through the washed out trail, eventually getting to the to the base and having to hike 2 miles to Wainiha through 3 landslides that destroyed the road.
The second wave of 8 hikers left in Sunday morning at 8am. I was a part of this group, so I can vouch for how awful the trail was. We got lost several times and it took 20 minutes each time to relocate where the trail continued. It was raining the entire hike and a majority of the trail was basically mud and waterfalls.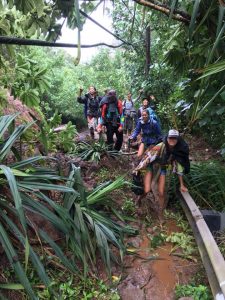 Crossing the river at Hanakapi'ai was really sketchy since water levels were high and flowing. We felt the need to get out so we crossed through. I was the one who had the hardest time since I am smaller statured. My shoes split apart underwater from the pressure while I was crossing and I lost my footing. I got washed down the river about 6 ft. Where I grabbed onto a rock. My partner got my backpack from me and then was able to grab my arm and pull me across the river. My shoes were destroyed so I hiked the last 2 miles to the trail head in slippers. Once we got to the bottom, we realized the apocalypse that was to ensue. The trail was closed and it was only abandoned vehicles at the trail head beach park. We began walking to Wainiha at the Colony Beach Resort where we heard word of hot food. We hadn't eaten since breakfast since we thought we would be coming down to civilization, and finished most of our food the night before. The Colony was the only place with food in town and they were still charging regular prices for meals and accommodations (~$20 a meal, and the resort was booked out when we got there). There was a small town meeting where a lot of people gathered in worry because there was no running water to the town. The YMCA was offering free bunks to people stranded, so half our group stayed there, and the other half was graciously hosted by locals.
Monday morning we began our 6 mile trek to hopefully get to Princeville where we heard it was home free from there. We hiked over massive landslides that had roads completely destroyed and power lines fallen (see attached photos/videos). Some landslides were as far as 60 feet across and 20 ft high (straight mud, rock, and tree debris). Power-lines were strung across and potentially live/hot. But we were determined to get out of there.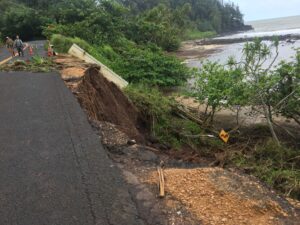 By this time we had heard that 3 more of our friends had gotten down the trail, but they had to sleep in the bathrooms at the trail head the night before because it was already dark, and more down-pouring of rain.
We hiked over all the landslides and when we got the the closest one to Hanalei, we encountered Hawaii Telecom who was cleaning it up. They had no idea how bad it was farther down, they have so much work ahead of them. There was so much stuff (houses, cars, refrigerators, surfboards, trash, etc…) washed into the ocean.
We eventually got to the river mouth and beach of Hanalei where locals were boating people across to Princeville. There was also several loose bison that were being herded on the beach. They had just gotten caged when we got there.
Could be a "big fish story", but we heard that a few bison had drowned and that sharks were down there at the beach feeding on the carcasses (but I'm not certain if this was true haha)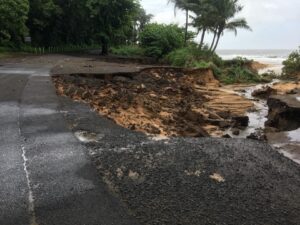 We got boated across to the St Regis where we got rides there back to our respective homes/airport.
Once we got out, 2 hours later, we were greeted by 11 other friends (some we knew before, and others we met at the beach) who decided to stay an extra day to wait out the storm and they were emergency evac helicoptered out from the beach! They were brought on 2 different helicopters to the Princeville airport then shuttles to a safety station with food, water, and blankets.
After so much worry, everyone in our hiking group was safe and accounted for.
We hiked 20 miles in 2 days with all our gear on our backs and determination in our hearts. What an adventure!!! We were the 27 backpackers that survived apocalyptic rain and hiked out of Kalalau Valley back to a destroyed civilization. We are very thankful for our lives because we all encountered extremely dangerous situations where we are lucky nothing bad happened.
Mahalo for reading our story. We are praying for the people of Kauai. So terribly sorry for those who lost lives, homes, and other important things.
Stay safe out there Ohana!