There are several stream crossings along the Kalalau Trail.  These water crossings can be a great place to take a break, fill water containers and canteens or even cool off by taking a dip.  While most of the time the streams are a blessing, they, like most other things, can have their negative side.
During or following a big storm, these streams can swell up and become raging rivers.  They aren't the harmless oasises that they usually are, but rather they become dangerous, sucking torrents of water that can injure or imperil hikers.
In the past year there have been several occurrences when people have become stranded or even been swept down the river during this trail's "temper tantrums."
It doesn't just happen during the winter months.  The Kalalau Trail is near one of the wettest spots on earth.  It rains very often, but you needn't always be worried.  Simple rain is not something that will affect the trail crossings as much as larger storms.  Be sure that before your trek you check local weather reports, pay attention to any warnings from the state, and be prepared to change your plans if there are significant storms coming that authorities have sent out cautions about.
One of the most important things to avoid doing is waiting until the last minute to leave Kalalau. Sometimes in stormy weather, hikers come to a water crossing that has swollen because of the weather, and in their rush to reach their plane in time, choose to attempt to cross the raging waters. This can lead to bodily harm or even death when the hikers inevitably loose their footing in the rough current or a loose rock. Then, on occasion, helicopters have to be called and rescue teams have to be sent in, all because the hikers procrastinated leaving in time. If you make your way back to the trail head with extra time planned, these swells can sometimes be waited out and can die down after a few hours. This is by far the better and safer option.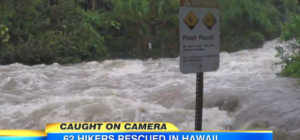 Unfortunately there is no easy way to plan too far ahead for bad weather.  While there may be a greater chance of bad weather in the winter months, as you can see from the articles above, it can happen during any time of the year.  Don't hike the trail if there are weather warnings and/or you are not prepared to wait out the weather.