If you wanting to hike the first 2-miles of the trail, please see our day-use page. Anyone proceeding past Hanakāpīʻai Valley (2 miles in) must possess a valid camping permit whether or not you plan to camp. Permits are required to camp at Hanakoa or Kalalau (Same permit). Permits are $35 per-person per-day. Good news if you are a resident, you get a $10 discount.
Note: Violators of the permit policy may be cited, and those cited will be required to show up in court. Violation of this rule is a petty misdemeanor under Hawai'ian law, and a conviction will result in a criminal record in addition to penalties.
Availability- The amount of people allowed on the trail at any one time is limited to a small number (Currently 60). Permits often sell out and during busy times of the year can sell out quickly. Currently the State is only issuing permits 90-days out. Get your permits early to ensure you will be able to visit Kalalau.  
Local residents walk-in permits- From May 15-September 7, additional permits (20 people each night) are available. These permits can be purchased up to 30 days in advance to walk-in applicants only, at the Kauaʻi State Parks Office in the State Office Building in Līhuʻe. Permits will be available on a first-come, first-served basis from 8 a.m.-11a.m., Tuesday through Thursday, each week through the summer.
Online Permit System- You can check for permit availability and purchase camping permits online. Visit the Hawaii Department of Land and Natural Resource Online Reservation System to reserve your permit.
Note: Hā'ena State Park reservations are not required for permit holders. Your hiking permit will get you into the park.
Limited overnight parking is available for campers with overnight permits for Napali Coast State Wilderness Park. Camping permits must be acquired from State Parks prior to purchasing overnight parking. Users will be charged for the number of days your vehicle occupies the lot (e.g. a one night stay will require paying for 2 days, a 4 night stay will require paying for 5 days, etc.) Visit GoHaena.com to reserve a parking spot.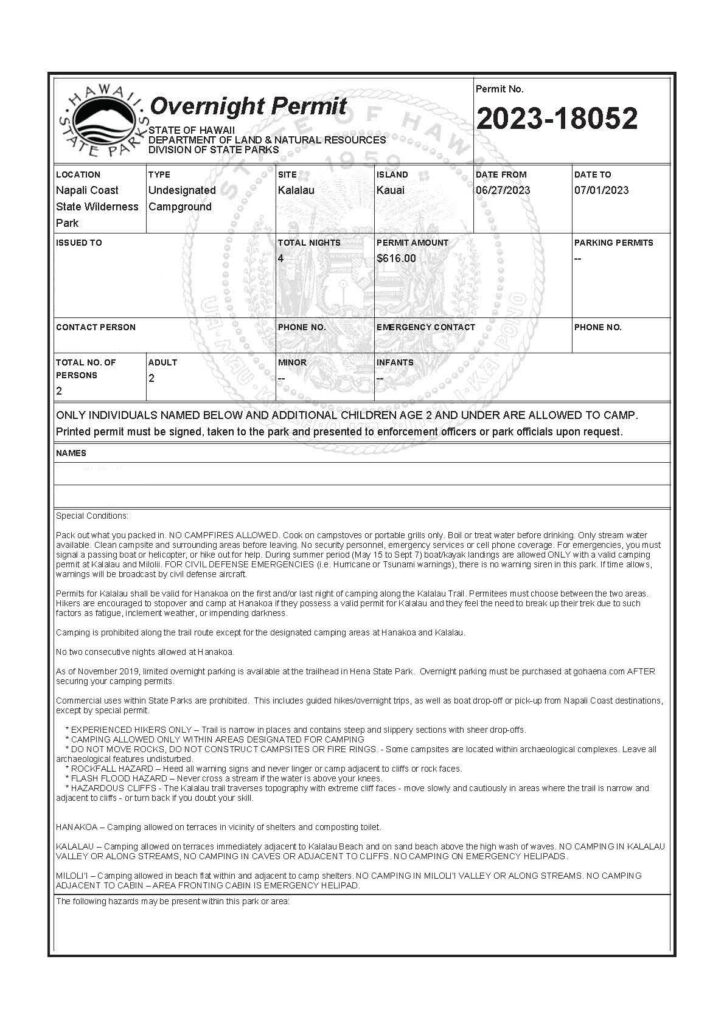 Other overnight parking options include limited overnight parking at Aliʻi Kai Resort in Princeville. Call (808) 826-9988 for details and reservations. Finding legal overnight parking anywhere else on the North Shore is a problem. If you are staying at a hotel the night before you hike, I'd suggest arranging something with your hotel if they allow it. Or, ditch the rental car and taxi/uber/bus into the trail head.
How to get a Permit
Visit the Hawaii DLNR reservation system at this link.
Click "Continue" at the bottom of the page.
Select Island "Kauai".
Select Location "Napali Coast State Wilderness Park".
Click "Continue" at the bottom of the page.
Click Browse for Availability.
Click Make Reservation at the bottom of the page. (You'll have to create an account)
Day-use reservations– for those looking to hike the first 2-miles of the trail, more information can be found here.
---
Important Permit Notes
Permits allow you to stay at either Kalalau or at Hanakoa.
Maximum length of stay is 5 consecutive nights along the Kalalau Trail.
No two consecutive nights may be spent at Hanakoa Valley.
Hanakoa – Camping allowed on terraces in vicinity of shelters and composting toilet.
Kalalau – Camping allowed on terraces immediately adjacent to Kalalau Beach and on sand beach above the high wash of waves.
Miloli'i camping permits are completely separate and do not give you access to the Kalalau Trail.
No camping allowed along streams, in caves or by cliffs.
Permits are for the night and allow you to be on the trail the day of and return the day after the permit date.
During summer only (May 15 – Sept 7) kayak landings are allowed ONLY with a valid camping permit.
Archaeological Sites in camping areas are protected by law.
Open fires are prohibited.
Cook on camp-stoves or portable grills only.
Do not move rocks or create fire rings.
Absolutely no use of emergency helicopter landing pads.
No trash service. Pack out what you pack in.
No drinking water – Stream water must be treated.
Cancellations: refunds are available if at least 15 days prior (The administration fee is non-refundable). To cancel a permit use the "Live Help Chat" on the DLNR permit page where you got your permit.
Composting toilets at Hanakāpīʻai, Hanakoa and Kalalau.
Restrooms, outdoor showers, trash cans, drinking water and a payphone can be found at the trail head near Ke'e Beach.