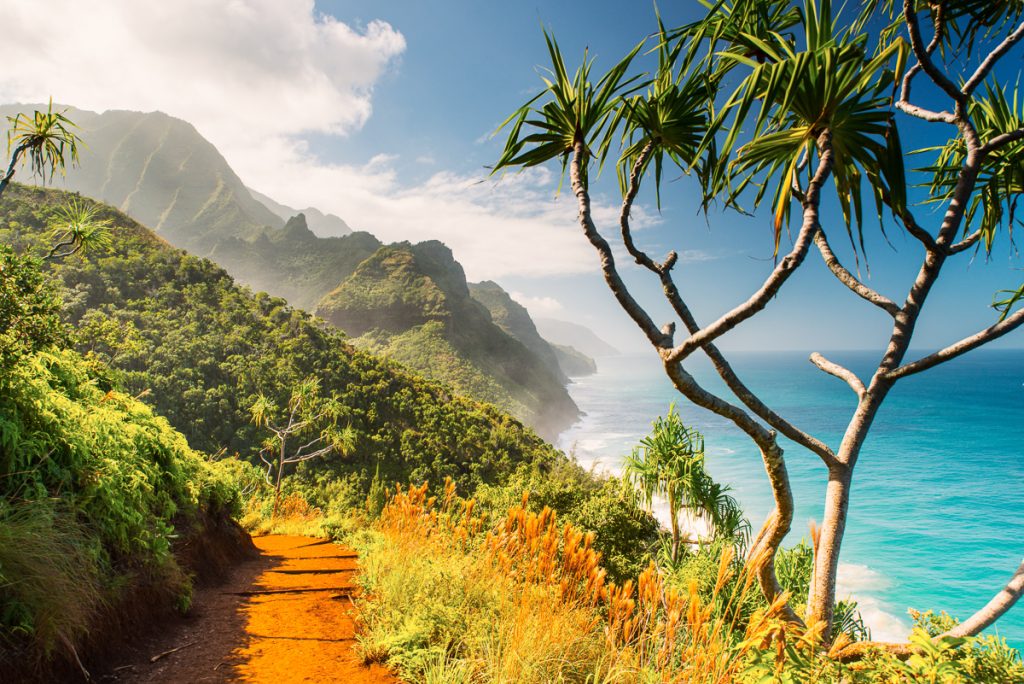 [divider style="solid" top="20″ bottom="20″]
As of June 17, 2019, the Kalalau Trail is officially reopened and ready for visitors.
Hāʻena State Park and Nāpali Coast State Wilderness Park (Including the Kalalau Trail) were closed in April 2018 due to severe flooding and damage to the parks and roads after several storms that hit Kaua'i's north shore. The area saw 50 inches of rain in a 24-hour period.
Prior to the closures, the DLNR (Department of Land and Natural Resources) had been considering changes in their park management strategies to provide a better visitor experience while also protecting the surrounding communities and natural resources.
During the 14-month closure, while Kūhiō Highway was under major construction, the DLNR finalized it's new master plan and worked to implement new changes when the parks reopened. Some of the changes implemented as of the re-opening on June 17, 2019 are listed below.
A new 100 stall parking lot has been built to accommodate all private-vehicles. Parking along the street is no longer allowed. Overnight parking is only available on a limited basis to overnight permit holders. Along with the new parking rules, parking fines have increased to $200 per violation.
All day-use visitors to Hāʻena State Park are required to purchase online reservations (https://www.gohaena.com/) prior to their arrival. This includes visitors entering in private-vehicles, shuttles (kauaiNSshuttle.com) or walking/biking in. Reservations will be limited in number to prevent overcrowding. Approximately 70 parking stalls are set aside for reservations while about 30 stalls are for locals to use (no reservation needed, first come-first served). The park will be open daily from 6:30am until sunset.
Even though the Kūhiō Highway is now open, there is still construction going on. Also, the day-use process at Hāʻena State Park is still new and there may be issues that cause a slow-down in the system. Visitors are cautioned to be patient and plan ahead for delays.
Day-use visitors will include those visitors going to:
Kēʻē Beach and other attractions in the area
Hanakāpīʻai Beach (Approximately 2-miles away along the Kalalau Trail, 4-miles round trip)
Hanakāpīʻai Falls (Approximately 2-miles up from Hanakāpīʻai Beach, 8-miles round trip)
Day-use visitors at no time will be permitted to hike the Kalalau Trail past Hanakāpīʻai Beach. A Nāpali Coast State Wilderness Park camping permit is required to hike past Hanakāpīʻai Beach whether or not you plan to camp.
Permits are required to hike the full Kalalau Trail. Those with permits are not subject to the newly implemented Hāʻena State Park visitor limits & reservation system. Entrance into Hāʻena State Park will be granted with a Kalalau camping permit. Limited overnight parking is only available to overnight permit holders and must be reserved in advance. Without a parking reservation, permit holders will need to arrive by shuttle (www.kauaiNSshuttle.com) or arrange for private drop-off. The new shuttle service is taking reservations starting Friday, June 21, 2019.
For more information about obtaining a reservation to visit Hāʻena State Park, click here.
Camping permits:
Currently the State is only issuing 2019 permits 90 days out. There may still be road construction repairs that will close the roads (and thus the trail) for days at a time. They don't know exactly when these closures may take place and don't want to give out permits too far ahead of time. After these issues are resolved, we expect them to begin their "Year-in-advance" policy again. For more information about obtaining a camping permit, click here.
[divider style="solid" top="20″ bottom="20″]