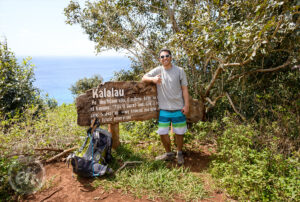 By: Marvin Chandra
Over Spring break, Ikaika and I decided to hike Hawaii's best known trail: Kalalau. The trail is 11 miles long one way and ends at a famous camp spot. Originally planned as a 4 day and 3 night event, we ended up shortening it to 2 days and 1 night while still completing all of the 22 miles, camping at the beach, visiting one of the major waterfalls, and capturing the Milky Way along the way.
 The trail starts at the end of the road on the North side of Kauai and a parking lot is provided for hikers. We would arrive in Kauai from Oahu around 6 AM where Ikaika's uncle picked us up and drove us to the trail. After filling up our packs with water and catching up with his uncle, we would start the trail just before 8 AM. The first 6 miles are open to all hikers but you will need a permit if you decide to stay at the camp spot at this point or go beyond.
I would end up falling asleep before the sunset on the first night and woke up around 4 AM. While I missed a sunset that Ikaika described as 'intense', I would wake up on time to catch the Milky Way rising from the beach. For Hawaii, the Galactic Core of the Milky Way starts to become visible just above the horizon in March around 4 AM. It will rise earlier in the following months.
Read the rest on Marvin's site.