Stretching for a total of 11 miles and perfectly sandwiched between the Pacific Ocean and the towering cliffs of the Na Pali Coast where lush greenery, roaring waterfalls, and heavy streams await, the Kalalau Trail is undoubtedly one of the most well-known gems of the entire Hawaii State Parks system. Whether you've been on Kauai for a while now and have yet to face the trail or you are planning a trip to the island in the coming months, it's about time you start planning for the adventure of a lifetime. Here are some reasons you won't want to miss out on experiencing the famous Kalalau Trail…
The Challenge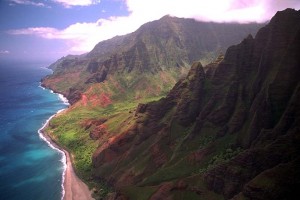 Though many and most Hawaii visitors' heads are filled with daydreams of waking up in a 5-star resort each morning and ending their days sipping on a Mai Tai, how about being just a little different than the rest of them and embarking on a challenge instead? With the posed dangers that all hikers of the Kalalau Trail face from finish to end, don't be fooled into thinking this is your average every day hike. A combination of loose dirt, that Hawaiian humidity, soaring cliffs, and the chance of falling rocks, this is the time where you can strap on those boots of yours and embark on a journey that will challenge you both physically and mentally. But remember, the bigger the challenge, the bigger the reward.  (Make sure to read more about the Dangers of hiking the Kalalau Trail)
The Incomparable Natural Beauty
From the moment you begin the Kalalau Trail at Ke'e Beach, you'll understand this reason. Only about a mile into the hike, you'll come to the stunning Pali Lookout; one of the highest points of the trail before it bottoms out at Hanakapi'ai Beach. This is just a taste of what's more to come as you weave, jump, cross, and make your way along the trail. Although you'll want to pay close attention to your footing on certain parts – like Crawler's Ledge (Mile 7) – you will also get ample opportunities to soak up the ocean views, diverse flora, and some of the most breathtaking natural sceneries of Kauai. If you have a GoPro or other action camera, you're going to want to pack it.  (See videos of the Kalalau Trail)
The Chance to Witness One of the Highest Rated Beaches in the World
After you're on the tail end of your challenging 11-mile long journey and are nearly out of breath, hungry, and exhausted, something quite magical happens…you arrive at your one-way destination; Kalalau Beach. Extending one mile in length and boasting warm white sands, backed by lush jungle and beautifully painted cliffs, you'll find the pure beauty of this place alone is enough to rejuvenate, replenish, and re-energize you. Here, you can set up camp (with permit) and enjoy the sound of the ocean, make friends with other visitors and/or the locals who can't quite bring themselves to leave their found paradise, and rest up before hitting the trail again within the next 5 days.
The Satisfaction & Memories
Whether you are a seasoned hiker, intermediate hiker, or you are a slow paced and cautious hiker with the simple intent of crossing this trail off your bucket list, you'll find that each step, each crossing, and each stopping point along the way will bring an undeniably pure satisfaction. Embarking on a challenge is one thing; completing that challenge is an entirely different thing. Once you finish the 22-mile round-trip journey through the Kalalau Trail, you'll be able to look back on (hopefully) only good memories, epic pictures, and that fantastic feeling of satisfaction you had once you reached the journey's end. Because after all, who doesn't love that feeling?
Experience Kalalau Trail!