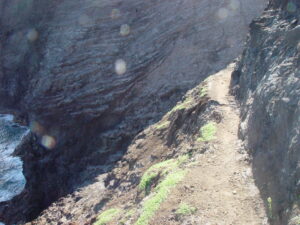 The Kalalau Trail made Backpacker Magazines list of the 10 Most Dangerous Hikes in America.  They point out the dangerous cliffs, footing and wet weather.  The Kalalau Trail ranks a 6 on the Danger Scale.
They suggest: Stay steady on the trail by using trekking poles, wearing deep-lugged shoes, and loading heavy items at the bottom of your pack to lower your center of gravity. Stay out of streams when it's raining, since debris jams can burst and release a sudden wall of water on hikers downstream. Floods on Kauai drop as fast as they rise, so wait out sudden whitewater rather than fording it–even if that means missing your flight.
Read the full story here.